Domestic Violence Awareness Month
This is an archived news item. Links may no longer be active.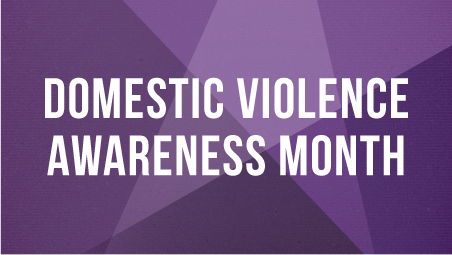 Posted: 09/26/2019
October is Domestic Violence Awareness Month. At UNT, we have a strong commitment to keeping our campus safe and educated when it comes to any form of violence on our camps.
Some conflict in relationships is normal; however, violence is not okay. Understanding and identifying the forms of relationship violence is the first step in removing yourself from these types of situations. The UNT Dean of Students, UNT Survivor Advocate, and UNT Libraries are committed to the education and prevention of violence on our campus and in our community. Together, we created a library guide with links to campus and community organizations that can assist anyone suffering from any form of violence. The guide also contains definitions and descriptions of types of domestic violence as well as books to learn more about related topics like counselling, advocacy, and laws. You are not alone. We are here to help.
On October 3, the Survivors Advocate Office and their partners will host a Domestic Violence Awareness Month resource fair so students can learn about services provided on campus and by the local community.
Learn more at our Domestic Violence Awareness Month guide.
Domestic Violence Awareness Month
October 3: Domestic Violence Awareness Month Resource Fair, 11 am - 1 pm on the Library Mall. Hosted by UNT Survivor Advocate Office
October 9: Help Yourself Campaign Table, 10 am - 3 pm in front of Willis Library. Hosted by UNT Library Learning Services
October 22: Help Yourself Campaign Table, 10 am - 3 pm in front of Willis Library. Hosted by UNT Library Learning Services