Trusted Digital Repository
PAGE CONTENTS 3 min

ute

read.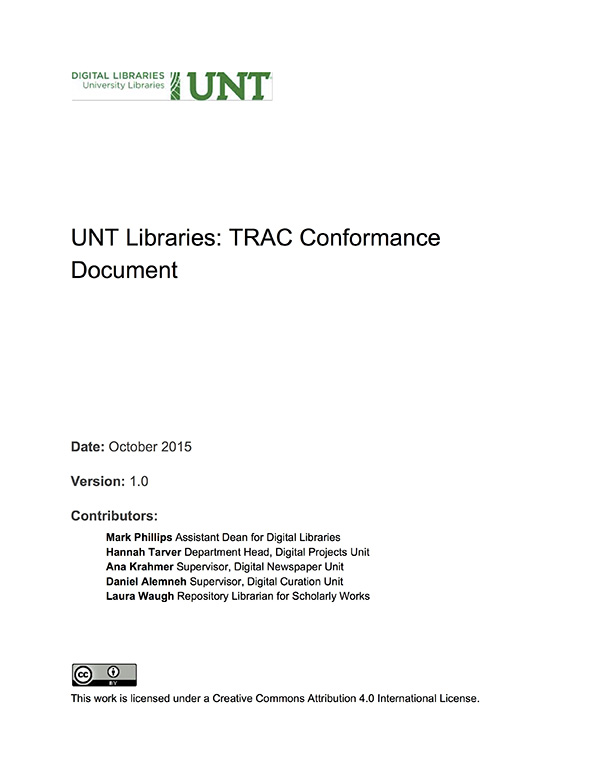 During the 2015 year, the Digital Libraries Division of the UNT Libraries completed a self-audit using the criteria of the Trusted Repositories Audit & Certification: Criteria and Checklist (TRAC). The goal of this audit was to formalize processes and create documentation necessary for the operation of a trusted digital library.
The team involved with this audit included the following participants:
In addition, numerous individuals throughout the UNT Libraries contributed to the documentation effort.
UNT Libraries: TRAC Conformance Document serves as an audit of the activities and methodologies behind the preservation of and access to content in the UNT Libraries' Digital Collections. The audit examines two major infrastructure pieces: the Coda repository system, used for preservation services, and the Aubrey system, which provides public access to digital resources through The Portal to Texas History, the UNT Digital Library, and the Gateway to Oklahoma History.
| Document Name | Archived Version | Updated Version |
| --- | --- | --- |
| UNT Libraries TRAC Conformance Document | October 2015 | |
| Appendix A: UNT Libraries TRAC Audit Checklist | October 2015 | |
| Appendix B: Formal Statement of Conformance to ISO 14721:2012 | October 2015 | |
| Appendix C: Collection Development Policy for the UNT Libraries' Digital Collections | October 2015 | Current |
| Appendix D: The Portal Partnership Agreement | October 2015 | |
| Appendix E: Portal Memorandum of Agreement for Digital Rights | October 2015 | |
| Appendix F: Digital Library Memorandum of Agreement for Digital Rights | October 2015 | |
| Appendix G: Travel/Professional Development Document | October 2015 | |
| Appendix H: UNT Libraries' Digital Preservation Policy Framework | October 2015 | Current |
| Appendix I: Timetable for Documentation Review | October 2015 | |
| Appendix J: UNT Libraries' Digital Collections Usage and Feedback Policy | October 2015 | Current |
| Appendix K: Digital Projects Unit Standards | October 2015 | Current |
| Appendix L: Preferred File Formats | October 2015 | Current |
| Appendix M: UNT Libraries OAIS Information Package Specification | October 2015 | |
| Appendix N: CODA Screenshots | October 2015 | |
| Appendix O: UNT Libraries Archival Storage Replacement Fund | October 2015 | |
| Appendix P: UNT Libraries' Policy on Creation and Licensing of Metadata | October 2015 | Current |
| Appendix Q: UNT Libraries Open Source Software Policy | October 2015 | Current |
| Appendix R: Data Loss Escalation Procedures | October 2015 | |
| Appendix S: UNT Digital Libraries: Risk Analysis and Management Strategy Plan | October 2015 | |
| Appendix T: UNT Libraries Digital Workflow Diagram | October 2015 | |
| Appendix U: UNT Libraries Ingest Workflow Diagram | October 2015 | |
| Appendix V: UNT Libraries SIP-to-AIP Conversion Workflow | October 2015 | |
| Appendix W: UNT Libraries AIP-to-DIP/ACP Conversion Workflow | October 2015 | |