UNT Libraries Acquires Tortellini Collection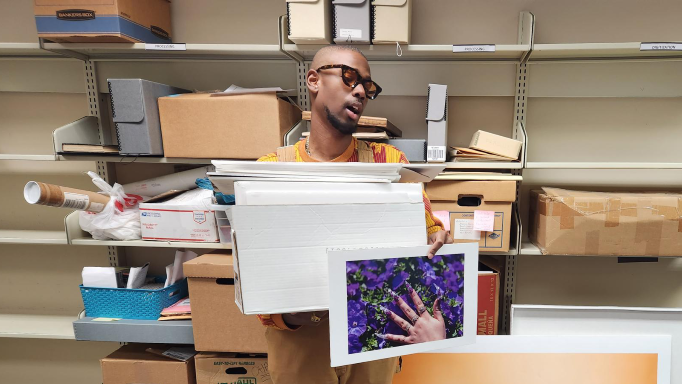 Posted: 11/08/2022
UNT Libraries has acquired a collection of original photographic works by UNT alum Don Thomas II ('15), who goes by the name Don Tortellini. The images in the Tortellini collection represent the first time the UNT Libraries has acquired a full exhibition series of prints from a former student. These images will be available to view upon request in the Sarah. T. Hughes Reading Room.
Tortellini is a self-taught photographer who began taking photos during the pandemic after being furloughed from his job. Inspired by the intricate work of nail artists he began taking photos women's manicured hands and nail art. This work was first displayed in an exhibition titled "KLAWS" in December 2020 at the Wright art Twins Gallery in Dallas, and later at SMU's Pollack Gallery.
UNT has acquired the entire KLAWS exhibit which includes over 65 color photo prints of nail art in both formal and informal settings. Additionally, UNT has acquired a print from Tortellini's next series, "The Village." The image, titled "Precision," is a stunning documentary portrait of long-time Dallas County Commissioner John Wiley Price who is seated in front of Maurine Tootsie Jones as she twists the cornrows in his hair.
In October 2022 Tortellini came to UNT Special Collections to deliver the photographs in person and tour Special Collections. Reflecting on his time as a student at UNT, Tortellini hopes his collection will inspire current students to use their creativity to bring light to the everyday beauty around us, just as he continues to do today.
Morgan Gieringer, Head of Special Collections, was thrilled to meet Tortellini and to add this new collection to the library. "As curators we are constantly seeking ways to document the lived experience of our students and surrounding communities. Placing Don's work in the library's Special Collections will ensure that both his photography, and the ephemeral work of the nail artists highlighted in the images, is preserved and accessible for the future."
Tortellini's work has been featured recently in the news by the Dallas Morning News, KERA, NBC5 and others. For more information about the Tortellini collection or to schedule an appoint to view the Tortellini collection at UNT please contact specialcollections@unt.edu.
Morgan Gieringer Head of Special Collections UNT Libraries Morgan.gieringer@unt.edu 940-369-8657