Rare Copy of Kelmscott Press Beowulf Recently Acquired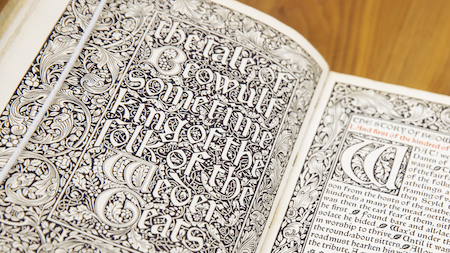 Posted: 06/08/2022
A man-eating monster and an epic hero, a literary masterpiece resonating over a millennia, presented in an elegant quarto fit for the best Victorian library.
The UNT Special Collections has recently acquired one of the 300 copies of the epic Beowulf printed by William Morris at his Kelmscott Press in Hammersmith, England in 1895.
The creamy vellum covers, held closed with silk ribbon ties, open to reveal text printed in the Troy font, designed by Morris for the volume. The handmade paper is a perfect background for the rich black printing, with pops of red accent text. The whole is enhanced by woodcut decorations of vines and plants curving sinuously around the margins of the ancient tale of good and evil, men and monsters.
The text of this edition of what Morris felt was "the first and the best poem of the English race," was based on a translation of the medieval epic done by A. J. Wyatt, and adapted by William Morris, who turned the prose back into verse and given a somewhat more archaic feel.
Claimed by Morris to have been the most expensive book produced by the press, The Beowulf was one of seven titles produced during the 5th year of the press's 8-year existence. It was printed one year before Morris's death in 1896 and is one of only 53 titles printed by the Kelmscott Press. This particular copy was previously owned by Henry Bosley Woolf, English professor, and editor of the G. & C. Merriam Company, and editor in chief of several versions of the Webster's Dictionary, as well as a scholar of Beowulf. His pictorial bookplate is affixed inside the front cover, and adds another layer to the importance of this volume.
Beowulf has fired the imagination of readers – and listeners, and viewers! – for well over 1,000 years, and continues to be reimagined in graphic novels, anime, movies, and retellings. The beauty of the hand-printed productions of the Kelmscott Press showcase the aesthetics and design abilities of masters of English art and craft. The two strains, united in this volume, make an important addition to the holdings of the UNT Special Collections.