Radio Shack & Tandy Corporation Collection Now Available
This is an archived news item. Links may no longer be active.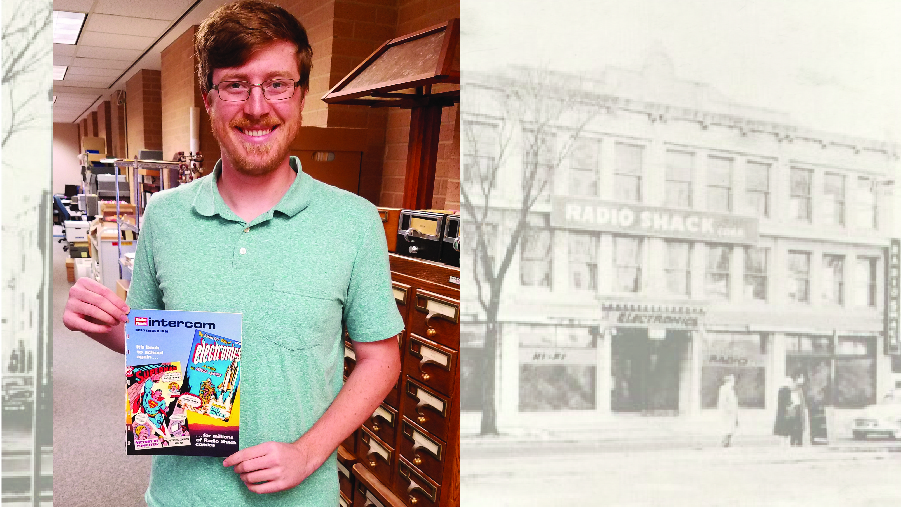 Posted: 07/09/2019
The University of North Texas Special Collections acquired the Radio Shack and Tandy Corporation Archive through the 2017 bankruptcy auction of the Radio Shack Company. Although this is an unusual way for UNT to acquire a collection, it was a once in a lifetime opportunity to preserve an important piece of technology, computing and north Texas history.
Starting as a family owned leather business in the early 1900's, the Tandy Corporation was created by Dave Tandy. The corporation started trading on the New York Stock Exchange in 1960 and purchased Radio Shack in 1963. The Tandy Corporation also purchased Leonard's department stores in 1967 and Meacham's fashion stores in 1968. Charles Tandy, the son of Dave Tandy, grew Radio Shack and the Tandy Corporation into one of the leading companies in consumer technology. Radio Shack found success by taking a vertically integrated approach to the company's structure, with much of the store's products being produced by the company itself.
In 1975, the company broke ground on Tandy Center in Fort Worth. The twin multi-story towers became an iconic part of the downtown Fort Worth landscape. The Tandy Center also included a mall, an indoor ice-skating rink and a privately owned subway running from the Tandy Center to the parking lots. The Tandy Corporation became the RadioShack Corporation in 2000, and a year later they sold Tandy Center. After filing for bankruptcy in 2015, Radio Shack was sold to Standard General.
The Radio Shack and Tandy Corporation Collection holds many interesting artifacts and documents from the company's history. Some of these include:
Over 30 Volumes of the 'Intercom' employee newsletter, detailing company news from 1967-2000.
Documents and news articles regarding one of the only privately owned subways in the world, the Leonard's M&O Subway in Fort Worth.
A detailed look at the TRS-80, one of the earliest mass-produced retail home computers, developed and released by Radio Shack in 1977.
The decline and bankruptcy of Radio Shack has been newsworthy story in recent years. Radio Shack had historically been a reliable source of products for both tech-savvy consumers and hobbyists. This collection will hold interest for anyone wanting to see the growth, structure, and inner workings of this tech giant.
The finding aid for the Radio Shack and Tandy Corporation Archive is available online. Some items from the archive are featured in an online exhibit. To learn more about the Radio Shack Archive, or to access materials on-campus, please contact specialcollections@unt.edu.
This collection was processed as a practicum project by Cody Rone (featured image), a graduate student at the University of Texas at Arlington.