UNT Libraries to receive 2018 Archival Award of Excellence for NBC5/KXAS digitization
This is an archived news item. Links may no longer be active.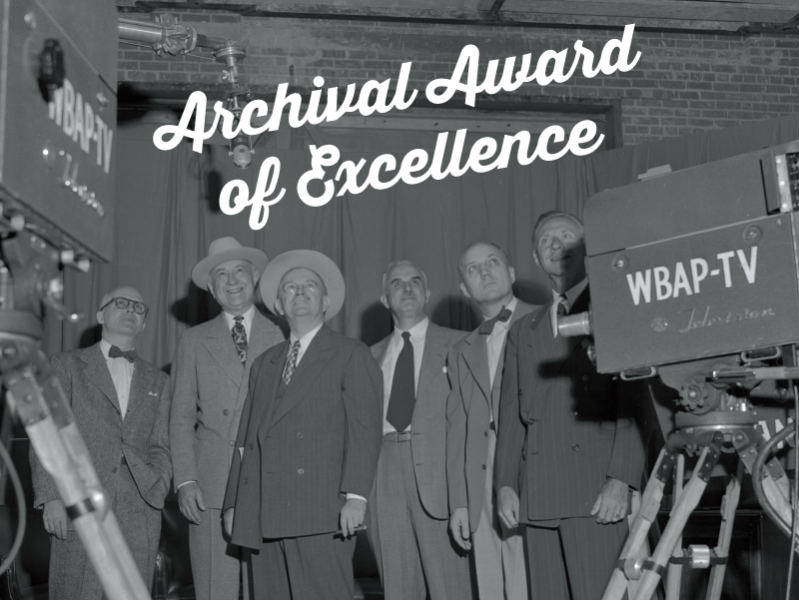 Posted: 09/24/2018
UNT Libraries is the 2018 recipient of the Archival Award of Excellence. The Texas Historical Records Advisory Board (THRAB) selected UNT Libraries' work to preserve the NBC5/KXAS Television News Archive.
Over the past few years, UNT Libraries has worked to digitize records from NBC5/KXAS, the oldest television news station in Texas. UNT Libraries has worked to preserve 20,000 individual news segments dating from 1951 and raised over $600,000 to support continued efforts. The THRAB notes these are "significant achievements in safeguarding and promoting our state's rich documentary heritage."
The NBC5/KXAS (WBAP) Television News Archive Project began in 2013 with the transfer of the KXAS physical archive from Fort Worth to Denton. By July 2014, the first digitized content from the collection made its way online. So far, the team has successfully digitized and shared over 10,000 archival news segments and over 36,000 original broadcast scripts to The Portal to Texas History.
The UNT Libraries Special Collections team members also work closely with filmmakers to identify relevant footage in the archive and perform scan-on-demand requests to make it available for news and documentary programming. Filmmakers and UNT librarians then negotiate licensing agreements for commercial uses of film, creating a stream of revenue to be invested back into the project fund. PBS, Vice News, ESPN, NFL Films, A&E, Investigation Discovery, and the Sundance Channel are just a few of the many outlets to take advantage of the UNT Libraries' NBC5/KXAS project. Some of the footage includes:
The AIDS crisis as it unfolded in Dallas in the 1980's
Ann Richard's gubernatorial campaign in 1990
In-depth coverage of the Branch Davidian standoff in Waco in 1993
Footage of Liberace, Bob Hope and John Belushi (among many other celebrities)
Comprehensive coverage of boxing, golf, and football.
Through the NBC5/KXAS digitization project, UNT Libraries can watch the complete history of television news unfold before our eyes as footage is added to the digital library.
The Archival Award of Excellence was established by the THRAB to "honor a Texas institution for its projects and/or ongoing programs that build collections, enhance access to archives, develop effective digitization programs, or implement preservation strategies."
UNT's efforts with the NBC5/KXAS archives are only possible through the cooperation and coordinated efforts of many UNT Libraries' departments including Administrative Offices, Facilities and Systems, Digital Libraries, Special Libraries, and External Relations and Advancement.
UNT's selection as the 2018 Archival Award of Excellence recipient will be formally announced by the THRAB on October 1 to kick off their Texas Archives Month celebration. Members of the NBC5/KXAS digitization project team will be present for the award presentation during the DFW Archives Bazaar on October 14 at Dallas Heritage Village.