Monthly Spotlight: November of Giving
This is an archived news item. Links may no longer be active.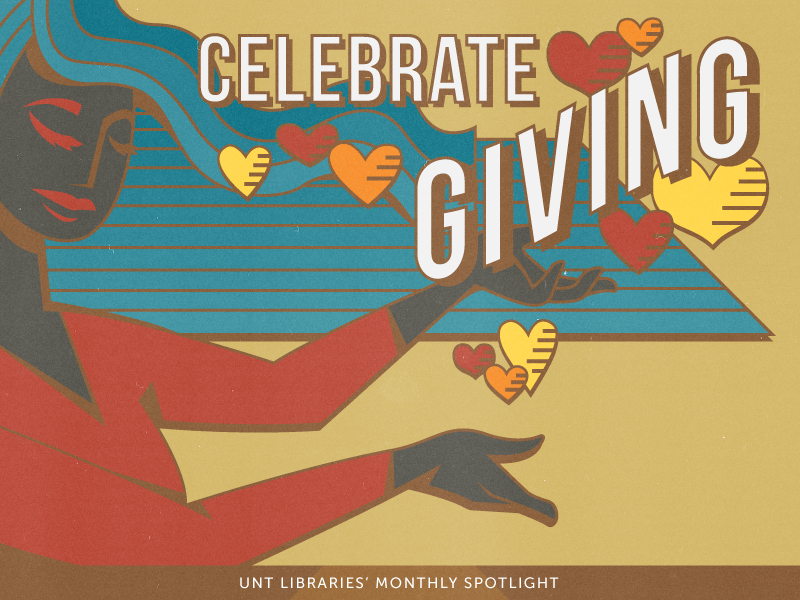 Posted: 11/08/2017
The calendar has flipped to November, ushering in cold weather and a greater need for generosity from students and Dentonites. For those in need, UNT Libraries is just one of numerous local outlets joining in the spirit of giving this month.
Whether you have overdue books and canned goods to exchange or some free time in between studying for finals, here's a few ways you can help give back to locals in need this Thanksgiving holiday.
Food for Fines - UNT Libraries
That's right. Your favorite penalty-forgiving goodwill drive is back! You can bring in canned goods to reduce your library fines while helping keep the Denton community well-fed at the same time.
Don't forget the important details (such as which goods are acceptable and how much we'll shave off your fines) before you bring your donations to the Willis Library Services Desk. Food for Fines runs from November 6 to December 1.
UNT Food Pantry
In addition to partnering with our Food for Fines initiative, the food pantry is available for use and open for donations year-round. This time of the year is especially important for our friends at the pantry, so head on over to the pantry website to find out how to donate.
Denton Nonprofit Events
It's a busy month for Denton-area nonprofits, with plenty of opportunities for you to spend your free time aiding the community.
The annual Turkey Trot will need volunteers to help the race get underway, so sign up if you think you're more of a helper and not a runner. The race is hosted by the Denton Area Running Club and benefits the Denton Community Food Center. Volunteers will be needed on November 22 and November 23.
Denton County Friends of the Family is putting together 600(!!!) meals this month to victims of domestic violence and sexual assault in their annual Thanksgiving Meal Drive. Learn how to join the effort and become one of hundreds of giving souls this Thanksgiving.
Giving Tuesday
After we follow Thanksgiving with the mega shopping days of Black Friday and Cyber Monday, it's time to give back a little.
Luckily, #GivingTuesday is now a thing. Taking place on the first Tuesday after Thanksgiving, #GivingTuesday ushers in the season of charitable giving across the United States. [According to the #GivingTuesday website][], "#GivingTuesday has become a movement that celebrates and supports giving and philanthropy with events throughout the year and a growing catalog of resources."
Multiple Denton-area organizations are partners with the #GivingTuesday cause, including the Delta Public Service Foundation, Hearts for Homes, Texas Coalition for Animal Protection, and Meals on Wheels.