Three Questions with Rusty Williams, Writer-Historian
This is an archived news item. Links may no longer be active.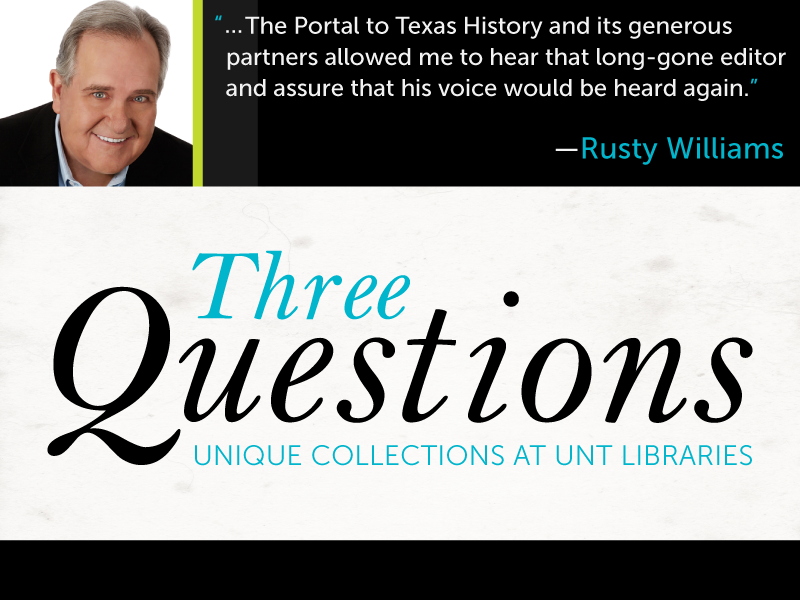 Posted: 03/21/2016
Three Questions is an initiative to share the value that our faculty, students, and others in the UNT community derive from using the Unique Collections at UNT Libraries.
---
How important are Unique Collections in your teaching, learning or research?

As a writer-historian, I find the Portal more valuable with every day as you add more newspapers, photos, magazines, books, and other historical materials. History is based on fact, and the more facts a researcher can wade through, the more illuminating and interesting history becomes. The primary source material shared by the Portal Partners and presented by The Portal to Texas History is essential to me when writing Texas' history.

How have Unique Collections changed the way you approach your research, teaching or learning?

The Portal has helped me accelerate the pace of my book research while broadening the list of resources I can research efficiently. The Morris Memorial Library in Claude, Texas, is a beautiful facility, and the research librarians are eager to help. But it's hard to justify an eleven-hour round trip from Dallas to Claude and back to study three weeks of 1931 newspaper coverage in the Claude News in their files. Now, though, with just a few keystrokes, I can study those old issues without leaving home, thanks to the Tocker Foundation and the Portal to Texas History. Easy access to those online resources allows me to write of history in a way that's fuller and (I hope) more entertaining.

What do you want others to know about your research?

I tell of history through the stories of people who lived it, and I thrive on finding those "little" characters who witness great events and have a unique way of understanding them. Much newspaper coverage of the 1931 Texas-Oklahoma Red River bridge war—the subject of my upcoming book—saw the armed conflict as a regional comic opera. The editor of the Claude News, on the other hand, saw the bridge war as a class struggle, an armed conflict played out along the banks of the Red River. I likely never would've heard this editor's voice if it had remained trapped on eighty-five-year-old newsprint. But the Portal to Texas History and its generous partners allowed me to hear that long-gone editor and assure that his voice would be heard again.

[][]

Texas A&M University Press will publish Rusty Williams's The Red River Bridge War: A Texas Oklahoma Border Battle in June 2016. Rusty is also the author of My Old Confederate Home: A Respectable Place for Civil War Veterans (University Press of Kentucky) and Historic Photos of Dallas in the 1950s, 1960s, and 1970s (Turner Publishing).
Rusty currently lives in Dallas and can be reached at rusty@rustywilliamsauthor.com.
[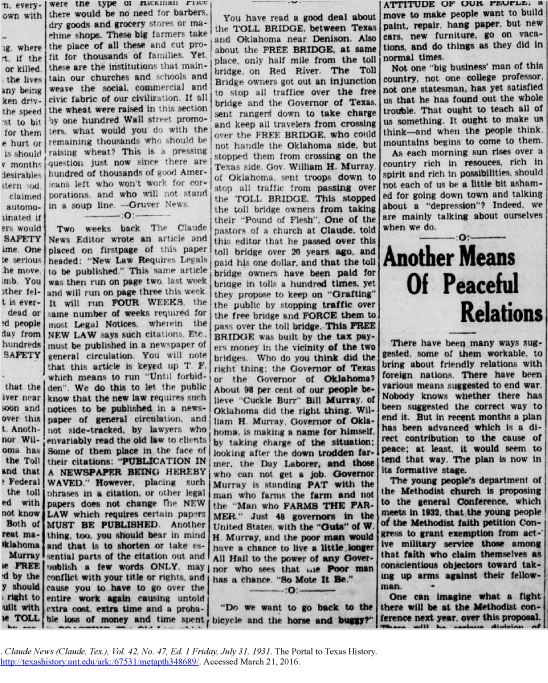 ]: https://texashistory.unt.edu/ark:/67531/metapth348689/m1/2/?q=claude%20news%20july%2031,%201931