Three Questions with Mylynka Kilgore Cardona, Map Curator
This is an archived news item. Links may no longer be active.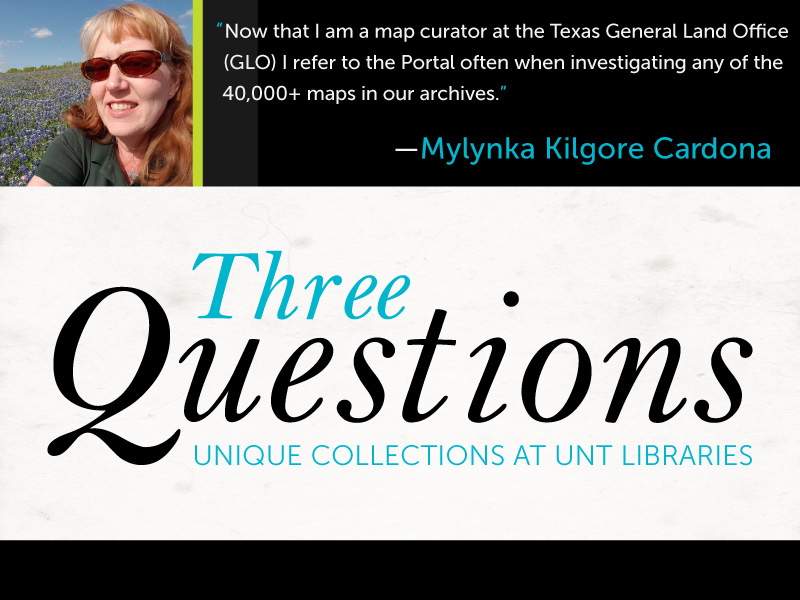 Posted: 04/19/2016
Three Questions is an initiative to share the value that our faculty, students, and others in the UNT community derive from using the Unique Collections at UNT Libraries.
---
How important are Unique Collections in your teaching, learning or research?

I first learned of the Portal while working on my PhD at UT-Arlington and several maps from our Special Collections were in the process of digitization at UNT. While an adjunct professor at UTA, I used the Portal to help round out my lecture notes and directed students to it as a valuable resource for their projects. Now that I am a map curator at the Texas General Land Office (GLO) I refer to the Portal often when investigating any of the 40,000+ maps in our archives.

How have Unique Collections changed the way you approach your research, teaching or learning?

The Portal has helped me to locate items I would not otherwise have had access to and has spawned new interests, giving me topics to pursue both personally and professionally. Having access to the scanned maps aids my work at the GLO - researching the items in our collection, gathering information for map collectors whose maps we have digitized, and helping me answer questions for our customers. The Portal is a source that I use so often I have it in the bookmarks bar on my home screen on my work computer! For my own research, access to newspapers from the nineteenth-century are the most helpful as I add material to my book manuscript.

What do you want others to know about your research?

Now that I am at the GLO my historical focus has shifted to include more Texas history. Thankfully my background in transatlantic history and historical cartography dovetails nicely with this. My ongoing study of nineteenth-century "lady travellers" can only broaden and deepen with the inclusion of Texas and the Portal will definitely help with that. I am currently working on converting my doctoral dissertation, "The Six Lives of Alexandrine Tinne," to a book manuscript and doing additional research for that project.
Mylynka Kilgore Cardona holds a PhD in Transatlantic History from The University of Texas at Arlington. She has a background in historical cartography, Atlantic revolutions, and intercultural transfers. Her 2015 dissertation "The Six Lives of Alexandrine Tinne" looked at the Dutchwoman's explorations on the Nile River in the 1850s and 60s and the uses of her image/story/life after her 1869 death. Cardona has taught courses in both world and US history, nineteenth-century women travelers, and women's and gender studies. She is currently a map curator at the Texas General Land Office, Archives and Records Division in Austin.